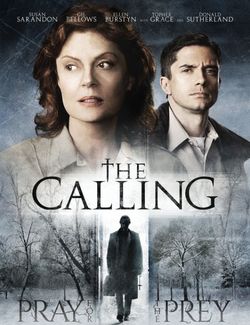 Genre:
Thriller
Release Date:
August 5, 2014
Duration:
108 minutes
Plot:
Fort Dundas is a quiet city in the provinces of Canada. The police has not faced a murder case the last four years. This is the reason why our two detectives – Hazel is one of them – are a bit rusty. This inaction stops precipitously with a string of hideous murders. At first the victims seem to have nothing in common. The two detectives take action and try to find the edge of a thread which reaches across Canada, from East to West. As for the mysterious stranger who calls himself an alternative therapist? I will tell you one thing… he is directly connected with a lost in time – since early Christianity – prayer of resurrection called "Liberare Eos" and, of course, the murders.
Our impressions and movie review:
This is a movie adaptation of the novel "The Calling", 2008, by Canadian author Michael Redhill (published under the pseudonym Inger Ash Wolfe) and it is a remarkable thriller. The talented actors realize a clever and noteworthy scenario. And all these to delight the film lovers of crime thrillers around the world. The scenery from the snowy Canadian landscape is the cherry on top of a delicious and enjoyable cinematic cake. A piece of this cake is awaiting for you to enjoy. Do not delay! 😀
Movie Quote from The Calling
-Why did you bring me here?
-You brought us together. You heard the calling when everyone around you could not. And you chose to become a part of it. This is where we're supposed to be, together, under the eyes of God. And this is where it will end.
[amazon The Calling with Susan Sarandon]
The Calling – Trailer
https://www.youtube.com/watch?v=bNxMo9xAy1c
Credits:
Writers:
Scott Abramovitch
Director:
Jason Stone
Cast:
Susan Sarandon – Hazel Micallef
Gil Bellows – Detective Ray Green
Ellen Burstyn – Emily Micallef
Topher Grace – Ben Wingate
Donald Sutherland – Father Price
Christopher Heyerdahl – Simon
Kristin Booth – Grace Batten
Amanda Brugel – Officer Vongarner
Katy Breier – Melanie Cartright
Ella Ballentine – Rose Batten
Paulino Nunes – Officer Mathieson
Jonathan Watton – Father Glendinning
Jane Moffat – Jane Buck
Kevin Parent – Spere
Shane Daly – Dale Varney
Janine Parkinson – Mason's Secretary
Courtney Lyons – Jolene
Darren Josephs – Police Officer