Genre:
Action Movie, Thriller
Release Date:
March 15, 2012
Duration:
96 minutes
Plot:
A very competent thief tries to pass the US-Mexican border driving a car. He and his accomplice have some millions of dollars that they stole from a kingpin in San Diego, California. Damn their bad luck, the Mexican Authorities get them at the border. The accomplice is shot dead and our protagonist is lead to a mexican prison, that does not resemble anything you have ever seen before in a movie. There, our versatile hero, will meet a young boy who wanders in the prison. His mother is an inmate and his DNA makes him a perfect organ donor for the "Big Boss Man" of the prison. Our hero wants to survive and to escape from prison. Getting acquainted with the boy and his mother, quickly change his priorities and his plans!
Our impressions and movie review: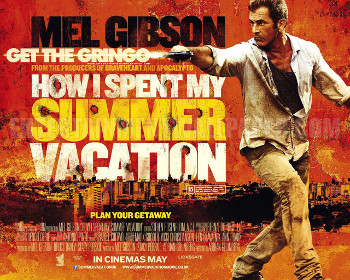 Ninety six dramatic minutes, packed with action and suspense is what you get with "Get the Gringo (How I Spent My Summer Vacation)".
The scenario is excellent and so are the performances of the actors. The scenes are very vivid and some of them particularly hard and violent.
I strongly recommend seeing this, because I believe this is a very, very, very good movie. It seems that the talented and popular Mel Gibson has something to give to the seventh art even as a script writer.
See it and you will believe it!
Get the Gringo (How I Spent My Summer Vacation) – Trailer (Greek subs)
https://www.youtube.com/watch?v=2KV9JvyHypI
Credits:
Writers:
Mel Gibson, Stacy Perskie, Adrian Grunberg
Director:
Adrian Grunberg
Cast:
Mel Gibson – Driver
Kevin Hernandez – Kid
Daniel Giménez Cacho – Javi
Jesús Ochoa – Caracas
Dolores Heredia – Kid's Mom
Peter Gerety – Embassy Guy
Roberto Sosa – Carnal
Peter Stormare – Frank
Mario Zaragoza – Vasquez
Gerardo Taracena – Romero
Dean Norris – Bill
Tenoch Huerta – Carlos
Fernando Becerril – Prison Director
Scott Cohen – Frank's Lawyer
Bob Gunton – Thomas Kaufman
Mayra Serbulo – Nurse
Owen Dunne – Jesse
William Gibson – Mark