Genre:
Animation, Comics
Release Date:
November 26th, 2014
Duration:
85 minutes
Plot:
A handful of rebellious Gauls are a pain in Caesar's… stomach. The Roman Emperor have tried many times to conquer the little Gaulish village and he have failed. Will he stop? If you think so, you are making a big mistake. Caesar might even succeed this time…
His plan is simple: Roman civilization. The trees near the village of Asterix and Obelix will be cut, and apartment buildings will be built! The Romans will pay a high price to live in "the Mansion of Gods" – catchy name, don't you agree? And what about the Gauls? "They will evolve or they will die", says Caesar.
The Gauls have beat in battle many times the Roman legionnaires. The same thing happens, of course, when the Roman try to build "the Mansion of Gods". But things change when the first citizens come and settle in. The moral of the Gauls does not allow them to hit civilians.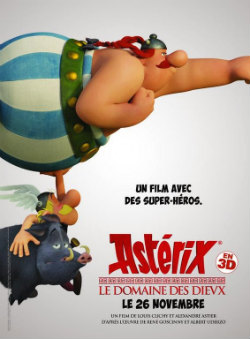 The Roman building are full of people, there is not even one apartment left. Soon, Roman citizens visit the little Gaulish village for shopping. Sestertii, the coins the Romans give to the Gauls to buy anything without bequeathing is how the "civilization" is enforced. Trade works like a Trojan Horse of Julius Caesar. Many Guals hurry to acquire Roman habits. Bad news for the little Gaulish village, but Asterix and Obelix have not said their last word!
Our impressions and movie review:
The Land of the Gods (Astérix: le Domaine des Dieux – 2014) is based on the comic book with the same title by Albert Uderzo and Rene Goscinny, that was published in 1971. Thankfully 3d animation came to revive the film series with Asterix and Obelix cause "Asterix and Obelix: God Save Britannia" did not fare so well. There are many social and political messages, and many funny scenes. Alexandre Astier (director and writer of Kaamelott) and Louis Clichy (animator at "Up" and "WALL·E") cooperated perfectly well and take us on a journey with the paper heroes of our youth. If you are a fan of Asterix and Obelix, or if you want to spend an afternoon with the family, buy tickets and enjoy the adventures of the most beloved Gauls in the whole world 🙂
Asterix: the Land of the Gods – Asterix: the Mansions of the Gods – Astérix: le Domaine des Dieux – Trailer (English subs)
https://www.youtube.com/watch?v=hGy72w2AIGU
Credits:
Writers:
Alexandre Astier, Jean-Rémi François, Philip LaZebnik
Directors:
Louis Clichy, Alexandre Astier
Cast:
Roger Carel – Astérix
Lorànt Deutsch – Anglaigus
Laurent Lafitte – Duplicatha
Alexandre Astier – Oursenplus
Alain Chabat – Sénateur Prospectus
Elie Semoun – Cubitus
Géraldine Nakache – Dulcia
Artus de Penguern – Petiminus
Lionnel Astier – Cétautomatix
François Morel – Ordralfabétix
Guillaume Briat – Obélix
Florence Foresti – Bonemine
Serge Papagalli – Abraracourcix
Bernard Alane – Panoramix
Laurent Morteau – Agecanonix
Arnaud Léonard – Assurancetourix
Joëlle Sevilla – Iélosubmarine / Matrone 2
Philippe Morier-Genoud – César
Christophe Bourseiller – Sénateur Falérius
Brice Fournier – Sénateur Pesticius / Citoyen 1 / Brute romaine 2
Olivier Saladin – Samus
Florian Gazan – Travaillerpluspourgagnerplus
Sébastien Lalanne – Radius
Franck Pitiot – Humérus
Damien Gillard – Médius / Brute romaine 1 / Romain 2
Oscar Pauwels – Apeldjus
Benjamin Gauthier – Médecin / Le guide / Romain 1
Pascal Demolon – Gladiateur 1 (Goth)
Baptiste Lecaplain – Gladiateur 2 (Numide)
Louis Clichy – Romain benêt
Production Companies and Distributors
M6 Studio
Belvision
Grid Animation
A.A.