Genre:
Action
Release Date:
August 22, 2014
Duration:
93 minutes
Plot:
Paul (Jason Patric) works as a car mechanic in a small town of Mississippi. Because his daughter Beth (Gia Mantegna) goes to college in another city, they communicate via Skype. Few days before Beth would return home, their call is terminated. He tries to call her again the next day, but a stranger answers her cellphone! So Paul decides to go find her asap.
When he arrives at her house and nobody opens the door, he breaks the lock and enters. He takes a photo with him, showing Beth and her friend Angela (Jessica Lowndes). He succeeds in finding Angela, and together they begin searching for Beth, who is in trouble with The Pharmacy (50 Cent) a drug dealer. However, Paul has his own dark past: he was a hitman, who retired twenty years ago, when instead of killing Omar (Bruce Willis), he accidentally killed his family.
Our impressions and movie review:
The Prince could have been a good, but mediocre, action movie. However it is totally whacked by director Brian Miller. They could use this movie in Film Schools in the lesson "What Not To Do When Directing". You do not believe me? Watch the murder in the pool scene!
The only actor who performs well, despite the "out of tune" director, is Bruce Willis. John Cusack is probably at the worst moment of his career, the co-star Jessica Lowndes is so-so, and 50 Cent boasts a three-minute role as a drug dealer… and this is it. Production was funded by the british company The Fyzz Facility and Prince Yoohanhwesa. I do not how far will get the Eastern Invasion in Hollywood now that american financiers are scarce, but I am sure that the actor Jung Ji-Hoon will not lead the way… he was too much a disappointment as the right hand of Bruce Willis.
Movie Quote from The Prince
Paul: Have you seen either of these two girls here tonight?
bouncer: Couldn't tell you, man. After a while, they all look the same.
Movie Quote from The Prince
You started walking across the room to me, stepping over the bodies, coming right for me, like you could… smell that there was still somebody alive in the room. You put your gun right up to my head. I waited for you to pull the trigger. Closed my eyes. That gunshot never came. By the time I had the guts to open my eyes, you were long gone.
Movie Quote from The Prince
Omar: People that have limbs that are amputated still feel the pain in that limb, even though it's not there. That's the pain that I feel.
[amazon the prince with bruce willis]
The Prince – Trailer
https://www.youtube.com/watch?v=XdZuyp6DpnI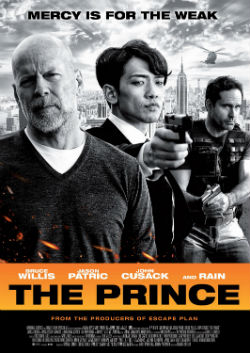 Credits:
Writers:
Andre Fabrizio, Jeremy Passmore
Director:
Brian A Miller
Cast:
Bruce Willis – Omar
John Cusack – Sam
Tara Holt – Candice
Jessica Lowndes – Angela
50 Cent – The Pharmacy
Jason Patric – Paul
Johnathon Schaech – Frank
Gia Mantegna – Beth
Rain – Mark
Courtney B Turk – Maegan
Don Harvey – Reilly
Tyler J. Olson – Eddie
Jaylen Moore – Raffi
Tim Fields – Jimmy
Natalie Light – Sara
A.A.