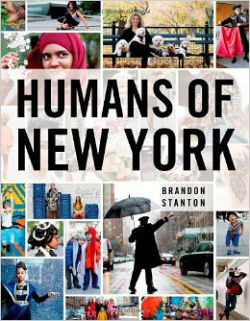 My first stop was New Orleans, then Pittsburg, then Philadelphia. Each time I arrived in a new city, I'd get lost in the streets and photograph everything that looked interesting, taking nearly a thousand photographs every day. After each day of shooting, I'd select 30 or 40 of my favorite photographs and post them on Facebook. I named the albums after my first impression of each city. Pittsburg was Yellow Steel Bridges. Philadelphia was Bricks and Flags.
I arrived in New York City in August of 2010. By this time, I was focusing almost entirely on photographs of people. I'd never been to New York before. I vividly remember looking out the window as my bus emerged from the Lincoln Tunnel, and looking down on all the sidewalks. I'd never seen anything like it. They were completely covered with people. I knew immediately that I was going to leave New York with an amazing collection of street portraits. Of course, I couldn't have known then was that I'd never actually leave.
I started yet another Facebook album to organize my New York photographs. Like all the others, I named it after my first impression of the city. I called it Humans of New York. I'd planned to stay in New York for a couple of weeks before heading to the West Coast, but I ended up staying well into September, collecting hundreds of portraits.
With the above paragraphs the photographer and famous blogger Brandon Stanton introduces his work "Humans of New York".
Brandon wasn't always a photographer. He studied History at the University of Georgia and in 2008 he got a job as a bond trader in Gambit Trading LLC. After three years he lost his job and he decided to go full-time with his hobby, photography. His parents were shocked with the big risk he was about to take, but fortunately – for him and for us – it came out good. Realy good!
He has published more than 8000 photos and he has 400000 followers on his blog humansofnewyork.com, and 10 million fans on his Facebook group. In October 2013 his first book titled "Humans of New York" was published by St. Martin's Press. The book climbed to the first place of New York Times best sellers
and was followed by the sequel "Little Humans" in October 2014, featuring photos with children.
Sometimes we choose what work we will do and some other times the work picks us. "Humans of New York" have chosen their photographer. Brandon Stanton is blessed with a special glance and through the faces of the people he choses to shoot with his camera, he succeeds in shedding light on the streets of the city and on aspects of the human heart.
The book "Humans of New York" is not just an album with photos showing stories of the city. The photos are accompanied by captions-extracts from the mini interviews given by the heroes to the artist. "Humans of New York" was published in English in October of 2013 – you can read it in Kindle ebook or printed. Also available is Little Humans (hardcover) or as Kindle ebook. Be sure to check these books, you will enjoy them!
Official Site:
http://www.humansofnewyork.com/
A.A.
The synopsis at the back of the book:
Based on the blog with more than four million loyal fans, a beautiful, heartfelt, funny, and inspiring collection of photographs and stories capturing the spirit of a city
Now an instant #1 New York Times bestseller, Humans of New York began in the summer of 2010, when photographer Brandon Stanton set out to create a photographic census of New York City. Armed with his camera, he began crisscrossing the city, covering thousands of miles on foot, all in an attempt to capture New Yorkers and their stories. The result of these efforts was a vibrant blog he called "Humans of New York," in which his photos were featured alongside quotes and anecdotes.
The blog has steadily grown, now boasting millions of devoted followers. Humans of New York is the book inspired by the blog. With four hundred color photos, including exclusive portraits and all-new stories, Humans of New York is a stunning collection of images that showcases the outsized personalities of New York.
Surprising and moving, printed in a beautiful full-color, hardbound edition, Humans of New York is a celebration of individuality and a tribute to the spirit of the city.
With 400 full-color photos and a distinctive vellum jacket