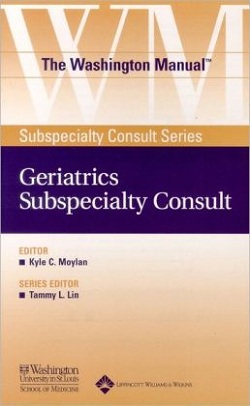 ISBN: 0781743796
ISBN-13: 9780781743792
Publication Date: September 2003
Publisher: Lippincott Williams & Wilkins
Elder people are the majority of patients in pathological clinics of Greece. Although their problems are in general problems of pathology, there are significant peculiarities regarding taking care of the elder people…
These is the introductory paragraph in the Greek translation of "The Washington Manual Geriatrics Subspecialty Consult". This book belongs in a series of advisory medical books of Washington University, Saint Louis, USA.
Briefly the book contents are:
Approach to the Geriatric Patient: The Comprehensive Geriatric Assessment
Settings for Geriatric Care
Dementia
Delirium
Depression in the Older Adult
Approach to Polypharmacy and Appropriate Medication Use
Falls
Dizziness, Syncope and Orthostatic Hypotension
Unintentional Weight Loss in the Elderly
Pressure Sores
The Older Adult Driver
Androgen Deficiency in Older Men
Sex Hormone Therapy in the Elderly Woman
Osteoporosis
Paget's Disease of Bone (Osteitis Deformans)
Osteoarthritis
Giant Cell Arteritis and Polymyalgia Rheumatica
Thyroid Disease in the Geriatric Patient
Opthalmology and Geriatrics
Aging and the Cardiovascular System, Exercise and Hypertension
Ischemic Heart Disease
Chronic Heart Failure, Valvular Disease, and Arrhythmias
Urologic Symptoms and Urinary Tract Infection in the Elderly
Urinary Incontinence
Benign Prostatic Hyperplasia, Erectile Dysfunction, and Prostate Cancer
Parkinson's Disease and Related Disorders
Although this manual is aimed at doctors and medical students, the clarity and the simplicity that characterise it make it accessible and useable to people with elders in their families and to people who take care of elder people. Besides, as correctly is stated in the greek translation of this book…
It is a greek tradition not to outcast elder people, who are a critical part of the greek family, in joys and in sorrows, and grandparents always had a great part in the growing of the children.
Books like "The Washington Manual Geriatrics Subspecialty Consult" can teach us how to effectively help our grandmother and grandfather and how to give them better quality of live. Consult this book and you will not regret it!
The synopsis at the back of the book:
This handbook from the Washington University School of Medicine is a practical guide for medical students, residents, and fellows treating older adults. It was prepared by residents and fellows in internal medicine, geriatrics, cardiology, ophthalmology, rheumatology, and urology, with faculty advisors from the Division of Nutrition and Aging. The authors provide a framework for approaching the important issues that arise in geriatrics and focus on key aspects of the evaluation and treatment of common geriatric disorders and consultations.
The book covers symptoms and diseases, acute and chronic problems, and inpatient and outpatient approaches with the same front-lines practicality as the world-famous Washington Manual of Medical Therapeutics. Tables and appendices provide rapid point-of-care access to information such as cognitive and functional assessment tests and important drug interactions.