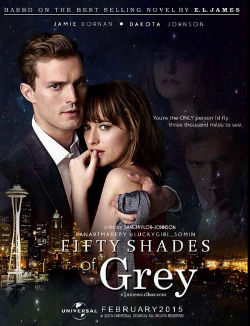 Genre:
Drama, Romance
Release Date:
February 11th, 2014
Duration:
125 minutes
Plot:
The life of Anastasia Steele, a literature student, changes forever when she meets the millionaire Christian Grey. They have totally different characters. Maybe this is the reason behind their attraction. Ana hesitates when Christian confides his "special" taste in sex. She hesitates, but every time she takes one step back, two steps forward follow. And Christian wants to be the one who controls her every move. He wants to control everything. Especially in sex. In his Red Room of Pain has every BDSM accessory one can imagine. Ana, who did not have a relationship before Christian, follows him in those paths. But she does not do so, because she likes being controlled or being hurt. She follows him because she feels she is in love with him. Will she be completely subjugated to his commands or will he try to change, even a little bit, what he wants.
Our impressions and movie review:

The movie is based on the book Fifty Shades of Grey by E.L. James. The screenwriter Kelly Marcel almost rewrote the book from scratch, keeping the key elements of the story and cutting down the… extreme sports Christian and Ana play. The result, is better than the book, but still reminds of a badly written romance novel seasoned with few erotic scenes, after the middle of the movie.
Dakota Johnson performs well as Anastasia and manages to give more personality to her character. Unfortunately this is not enough to give value to the much advertised movies. See "50 Shades of Grey" if you are fashion victims or if you want the commercials to define your actions. Alternatively, we suggest that you rent "9 1/2 Weeks" with Kim Basinger and Mickey Rourke. It is not necessary to compare the two movies, no matter what Mr Grey says.
Fifty Shades of Grey – Trailer (Greek subs, Full HD)
http://www.youtube.com/watch?v=c-A6XPnVYQ8
Quote from the movie Fifty Shades of Grey
Kate Kavanagh: What was he like?
Anastasia Steele: He was polite. Intense. Smart. Really intimidating.
Quote from the movie Fifty Shades of Grey
Christian Grey: It's just behind this door.
Anastasia Steele: What is?
Christian Grey: My playroom.
Anastasia Steele: Like your Xbox and stuff?
Christian Grey: It's important that you know you can leave at anytime.
Anastasia Steele: Why? What's in there?
Christian Grey: I meant what I said. The helicopter is on standby to take you whenever you want to go.
Anastasia Steele: Could you just open the door?
[she walks into the room]
Anastasia Steele: Oh my God.
Quote from the movie Fifty Shades of Grey
Anastasia Steele: Why are you trying to change me?
Christian Grey: I'm not. It's you that's changing me.
Quote from the movie Fifty Shades of Grey
Christian Grey: Because I'm fifty shades of fucked up, Anastasia.
Credits:
Writers:
Kelly Marcel
Director:
Sam Taylor-Johnson
Cast:
Dakota Johnson – Anastasia Steele
Jamie Dornan – Christian Grey
Jennifer Ehle – Carla
Eloise Mumford – Kate
Victor Rasuk – José
Luke Grimes – Elliot Grey
Marcia Gay Harden – Mrs. Grey
Rita Ora – Mia Grey
Max Martini – Taylor
Callum Keith Rennie – Ray
Andrew Airlie – Mr. Grey
Dylan Neal – Bob
Rachel Skarsten – Andrea
Emily Fonda – Martina
Anthony Konechny – Paul Clayton
Bruce Dawson – Mr. Clayton
Tom Butler – WSU University President
Christine Willes – WSU Grad Speaker / Reader
Chris Shields – WSU Professor
Anna Louise Sargeant – Female Grad
Megan Danso – Female Grad
Jason Cermak – Graduation Photographer
Brent McLaren – Computer Technician
Steven Cree Molison – Glider Tow Pilot
Elise Gatien – Young Woman at Bar
Reese Alexander – Elevator Businessman
Production Companies and Distributors:
Focus Features
Michael De Luca Productions
Trigger Street Productions
A.A.