"The Magician's Nephew", Clive Staples Lewis

Usually I read a book first, and if there is a movie adaptation, I watch the movie too. With the work of Clive Staples Lewis happened exactly the opposite. Some time ago, me and the rest creative team of Glance, watched the The Chronicles of Narnia: the Lion, the Witch and the Wardrobe. The film gave us the best impression and while we were researching to get more information for the movie review, we found out that this movie was based on one of the seven books of C.S. Lewis, in his book series "The Chronicles of Narnia". This very talented author entered our lives for good now. The rest is easy to guess. The Narnia book series was bought, and before being placed on the buyer's library, we read them. Here we will talk about the book "The Magician's Nephew".
C.S. Lewis wrote "the Chronicles of Narnia" between 1949 and 1954. Of course he has written many other books, but these are the most well-known. "The Chronicles of Narnia" have been adapted into radio, theater, television by BBC, and lately into the big screen. The books, shorted according to the plot, are:
1. The Magician's Nephew (1954)
2. The Lion, the Witch and the Wardrobe (1949)
3. The Horse and his Boy (1950)
4. Prince Caspian (1949)
5. The Voyage of the Dawn Treader (1950)
6. The Silver Chair (1951)
7. The Last Battle (1953)
As you can see on these parentheses, the author wrote the books in a different order.
"The Chronicles of Narnia" are published in Greek by Kedros Publications, translated by Jenny Mastoraki. They have amazing book covers and beautiful illustrations.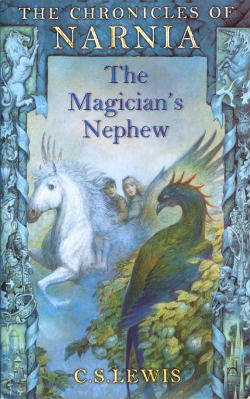 Some words for the plot of "the Magician's Nephew" and our impressions. At the beginning of the book we meet two children, Polly and Diggory, who are the main protagonists. For little children one of the greatest games is exploration, and the same happens with our two friends. In one of their explorations they found the study of Diggory's uncle. There, uncle Andrew compels them to travel with the help of magic rings, to other worlds. The adventures of the two boys have just started. Adventures that will finally lead them to the Land of Narnia. A magical place, that was created just a few hours ago. Read this book and you will experience those adventures too!
"The Magician's Nephew" is the prequel to the movie "the Lion, the Witch and the Wardrobe" that we have already seen. Reading this book we have covered some gaps left from the movie and we found the adventures of the two young boys very exciting! The 187 pages of this novel were read in an afternoon and we could not wait till we read the next books in the Narnia series. In conclusion we must say that this is a wonderful book that both you and your children will enjoy. I must leave you now, because the second book is waiting for me. See you after reading it 🙂
The synopsis at the back of the book:
Narnia… where Talking Beasts walk… where a witch waits… where a new world is about to be born.
On a daring quest to save a life, two friends are hurled into another world, where an evil sorceress seeks to enslave them. But then the lion Aslan's song weaves itself into the fabric of a new land, a land that will be known as Narnia. And in Narnia, all things are possible.
The Magician's Nephew is the first book in C.S. Lewis's The Chronicles of Narnia, a series that has become part of the canon of classic literature, drawing readers of all ages into a magical land with unforgettable characters for over fifty years. This is a stand-alone novel, but if you would like to journey back to Narnia, read The Lion, the Witch and the Wardrobe, the second book in The Chronicles of Narnia.